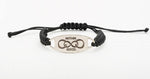 Outside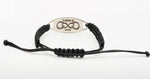 Inside
Within Good, There is God
A simple, yet powerful message that reminds us when we do good for ourselves and others, we are connecting with God. The design is an infinity symbol representing the double O in Good and interlocking with the G and D. Within Good is simply printed on the front of the bracelet and on the back is printed, There is God. The nylon rope symbolizes strength. It indicates a strong connection to God and it ties the bind between Good and God.
Within Good™ Wearable Reminder
DO GOOD • BUY GOOD
Sometimes we need a little reminder to do that small act of kindness or maybe we need a reminder that although no one else saw that kind act, God did. Within Good was created to be that reminder. A way to combine faith, community and charitable outreach into one simple design concept. And you can feel good in knowing that when you slip on your bracelet, you're already helping others since 10% of all net profits will be going to charity.
Though we hope to branch out soon and offer hats (to help you Think Good) and shirts (to help you Feel Good) we are starting out with a bracelet that helps you Do Good. A unisex statement piece that can be worn at all times by people of all faiths and backgrounds. A little encouragement on your wrist to do more good, for Within Good, there is God.
READ MORE
Testimonials
"Knowing that my mom and I have matching and meaningful bracelets is really awesome. Thank you again, so much! My Mom absolutely LOVES her bracelet, and has commented on it to me three times... And asked me to thank you!"

- David Swift - Writer/Director/Producer

I wear my bracelet every day! It is a great reminder to stay positive and feel empowered by focusing on doing good! Thank you!

- Ali Landry - Actress/Television Host

"Hi Anthony, those bracelets I got from you have been a great hit."

- Customer

"I received my bracelet yesterday and couldn't be happier with it! I absolutely love the message and plan on wearing it every day. Today was my first day and every time I looked at it, it was a reminder to me that there still is good in this world, and it inspires me to spread the goodness through my actions as well, and last but not least, God is good."

- Customer

"Awesome, thank you so much! These bracelets are going to really special people whom I know will really appreciate them."

- Customer

"I got the beautiful bracelets. Very pleased."

- Customer